About a month before nine bills restricting abortion access in Oklahoma will take effect, a crowd of around 200 gathered outside the State Capitol to rally against an increase in anti-abortion laws across the country.
Oklahoma City Women's March organizers said the event's purpose was to bring awareness to the lack of Supreme Court action against restrictive abortion laws in other states, including Texas, which recently passed Senate Bill 8. They also said they hoped to highlight the lack of maternal and infant care in Oklahoma, which is the fourth worst state for maternal mortality.
Of the nine bills signed by Gov. Kevin Stitt, Senate Bill 918 would grant Oklahoma authority to prohibit abortion if the Supreme Court overturns Roe v. Wade. House Bill 2441 would prohibit abortions after "a fetal heartbeat" is detected, unless the pregnancy would threaten the mother's life. A group of local and national organizations — including The Center for Reproductive Rights, several Planned Parenthood affiliates, the Oklahoma Call for Reproductive Justice and Tulsa Women's Reproductive Clinic — is challenging five of the bills in a lawsuit.
The Supreme Court didn't act on an emergency request to block a Texas law banning abortions as soon as cardiac activity is detectable — usually around six weeks into the pregnancy. President Joe Biden criticized the Supreme Court's decision in a September statement, saying the bill "unleashes unconstitutional chaos."
In December, the Supreme Court is set to hear a case on a Mississippi law that would ban most abortions after 15 weeks — about two months earlier than Roe v. Wade stipulates.
Women's March organizer Rebecca Burk said the Supreme Court's lack of action on strict abortion laws indicates it's "very seriously considering overturning Roe v. Wade."
Demand for Oklahoma abortion clinics has significantly increased amid almost-total abortion bans in nearby states, Women's March organizer Laura Ogle said. A doctor at the Planned Parenthood Tulsa facility said in September the clinic's seen a 646 percent daily increase in Texas patients, according to The Oklahoman.
Burk said she hasn't seen the same amount of concern regarding restrictive abortion laws in Oklahoma as in Texas and other states. Though Oklahoma HB 2441 mirrors Texas's "heartbeat" bill, with no exceptions for rape or incest, most discussion in the state began only after the Texas bill went into effect.
"Unfortunately, we may see kind of a similar thing here where a lot of people just don't really fully realize until it's already happened," Burk said.
Former state Sen. Connie Johnson said she worked in the State Capitol from 1981 to 2014. During most of that time, she said Health and Human Services committee chair Bernest Cain played a major role in protecting women's rights in the state. After he termed out in 2006, Johnson said the State Senate was immediately hit with a slew of anti-abortion bills.
Johnson said efforts by state legislators to push forward restrictive legislation made her "absolutely livid." In 2012, she introduced a "spilled semen" amendment to Oklahoma's "personhood" bill, which would classify "any action in which a man ejaculates or otherwise deposits semen anywhere but in a woman's vagina" as action against an unborn child. Because of the national attention the amendment received, Johnson said the bill never arrived on the House floor.
Johnson announced a campaign in the 2022 gubernatorial race in July. She said although she was defeated by Drew Edmondson in the 2018 gubernatorial Democratic primary, now is the time for a second attempt.
"I couldn't sit on the sideline, knowing that all the experience, the knowledge that I have … to help make Oklahoma a better place for people wasn't going to be exerted," Johnson said. "I have a duty to take all that I've been given, and all that I've ever had the chance and opportunity to receive to give back."
She also said young women "in the prime of their lives" have the most to lose from laws restricting abortion access.
"College women especially ought to be voting like their very futures depend on it," Johnson said. "I think they would be the group (that is) the most affected, potentially, but I think they're also the group that has the greatest potential to make this big difference."
Women's March organizer Alana Westfall moved to Oklahoma from New Mexico and said she didn't realize how bad the state's healthcare for women was until arriving. She said the state's been effective at attracting young people for work, but the lack of healthcare resources might prevent some from moving.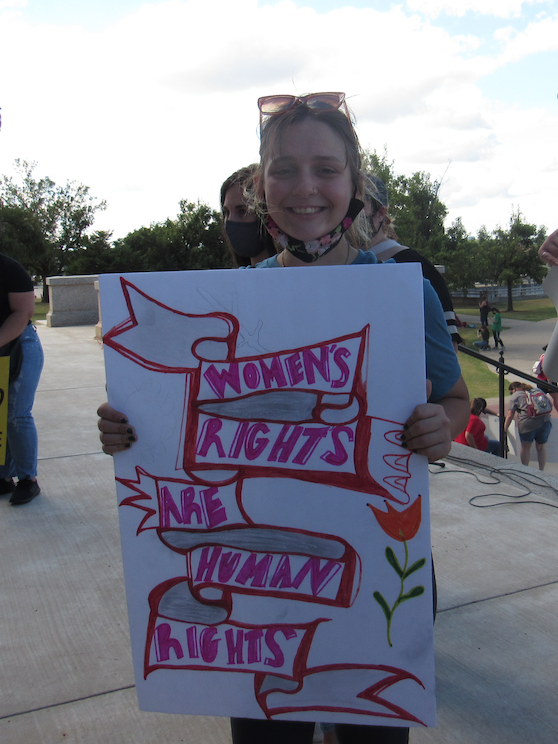 Psychology and criminology junior and OU Women's Health Advocacy Vice President of Education Stacey Johnson said group members attended the march because abortion is a women's health issue.
Stacey Johnson said the group's working to keep abortion accessible, even with potential additional obstacles. An WHA education officer is developing a blog with information, and the organization's Instagram has reproductive rights resources, like the Women's Resource Center and the Mary Abbott House.
"Girls our age should not be in the position of choosing whether they need to sacrifice the rest of their life to take care of a child or if they want to go get an education," Stacey Johnson said. "There's so many things that intersect with the issue of abortion that affect everyday life, and women shouldn't have to fight to have control of their own body, which should be an inalienable right."
Oklahoma City Women's March participants rally against restrictive abortion laws in Oklahoma, nearby states